projector hire 3000ansi Full HD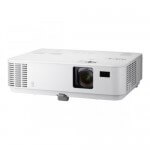 Projector NEC V302H
1080p native resolution
High resolution provides detailed display of text, graphics and images. HD video is displayed in 16:9 wide aspect ratio.
Brightness: 3,000 Lumens
Color Light Output: **
Contrast(Full On/Off): 8,000:1
Auto Iris: **
Native Resolution: 1920×1080
Aspect Ratio: 16:9 (HD)
Video Modes: 720p, 1080i, 1080p/60
576i, 576p, 480p
480i
Data Modes: MAX 1920×1080
Digital Inputs: HDMI /
HMHL
HDBaseT: No
Max Power: 280 Watts
Auto Sense
Intuitively syncs the projector with most computer signals and features one-touch image optimization.
Brilliant Colour
Advanced video processing from Texas Instruments delivers exceptional picture management control for both progressive and interlaced sources, while making images more vibrant, colors more realistic and blacks richer with detail.
Built-in wall color correction
Presets provide for adaptive colour tone correction to display properly on non-white surfaces.