Inflatable screen Hire, Mobile outdoor Inflatable screen hire
which can be hired for private or public screenings just about anywhere in the UK.
Imagine watching a film on a big Inflatable Screen or sports in the great outdoors or in a big hall projected on a big screen with cinema visual and sound quality. pop up cinema hire Screen sizes from 20ft to 45ft 16:9
Setting up outdoor cinemas on the day of the show is complicated by the fact that you will not be able to see the image on the screen until near sunset when your audience will be watching. We offer a special method of pre-focusing and full lens calculations to avoid having to move the projector or screen just before the show. Typically you will be able to get first focus and image sizing an hour before sunset, with readable images 30 minutes before the published times. See here for sunset times across the world
OPEN 6 DAYS A WEEK 9 am–5 pm
TEL: : 07876755357
info@proscreens.co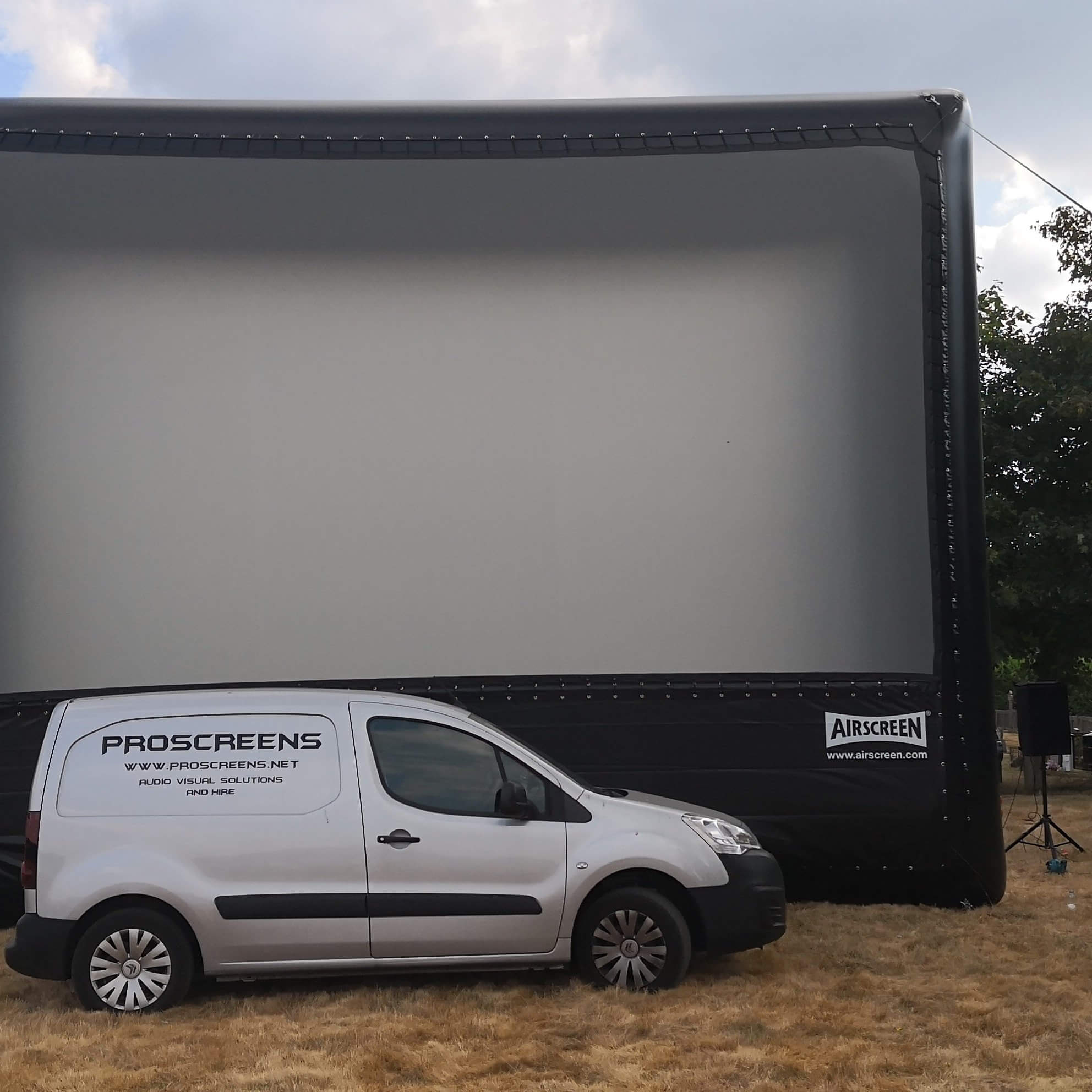 Giant outside Inflatable big cinena screen hire
film festivals / outside cinema equipment Hire
sport events
– corporate events
– movies at the pool (at hotels & resorts)
– backyard parties and movie nights
Inflatable Screen Hire Mobile outdoor Inflatable screen hire which can be hired for private or public screenings just about anywhere in uk.
Imagine watching a film on a big Inflatable Screen in the great outdoors or in a big hall projected on a big screen with cinema visual and sound quality. pop up cinema Hire Screen sizes from 20ft to 45ft 16:9.
Open air Cinema Hire
Big outside Inflatable cinema screen hire
film festivals / outside cinema equipment Hire
– corporate events
– movies at the pool (at hotels & resorts)
– Outside Cinema parties and outside mobile cinema
So the inflatable screens has to be dark to show a film outside. Doesn't matter what projector you put on it it needs to be dark the image is no good unless the inflatable screen is run in the dark. In which case you need to use a LED outdoor screen see below images and video of outdoor LED screens
AIRSCREEN is an inflatable frame with an attached projection screen. A system of tensioning tethers & ratchets secures the perfect fixation up to 24 mph or 38 km/h. For average sizes, it takes 30 – 60 minutes to install and even less to be removed. With its low weight, AIRSCREEN is suited for all locations: heritage sites, the middle of a dessert or high on a mountain top.