Porsche Screen Hire
We were asked by Porsche in Chiswick to supply two LED screens and stands for their event.  One screen was for presentations and slide shows and the other screen was for a car simulator game.  A couple of weeks later Porsche asked us to supply plasma screens at their St Albans a branch and a two TV screens in Reading.  All these screens were used for presentations and twitter feeds.  The main thing Porsche liked about our screen hire service is all screens are delivered in tact and ready to go with all the leads and connections supplied for their laptops and iMacs.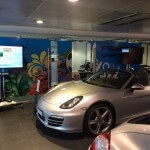 Screen Hire Reading, Screen Hire and Sound Hire Chiswick, Screen hire in St albans
Projectors and Screens for hire in Chiswick.